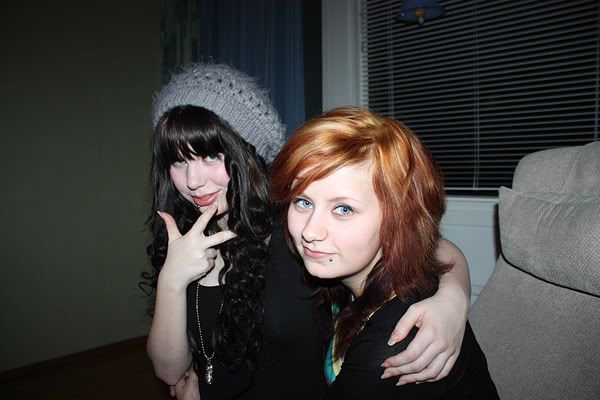 Pidettii eilen pienet illanistujaiset Annikalla, matkassa mukana pari leffaa (Pitkä kuuma kesä, Helmiä ja sikoja) ja hieman alkoholipitoista juotavaa. :D Oli tosi nasta meininki, valvottiin johonki kuuteen asti aamuun ja vaan juteltiin ihan hirveästi kaikesta. Meidän porukalla on ihan parasta, kun ei oikeasti tarvita mitään viihdykkeitä vaan voidaan olla monta tuntiaki ja vaan puhua.
Lisäks jouduin nukkumaan tollasen Pocahontas-peiton kanssa. Oli ihan mukavaa, mutta toi Radcliffe on ihan törkeen näkönen! XD Ihme että sain nukuttua, vaikka se koko yön tosta tuijottelikin.
Rupean muuten nyt joka blogimerkinnän yhteydessä kirjottaa myös käännöksen englanniksi, koka mulle on sen verran muunkin maalaisia lukijoita tullut kuin suomalaisia.
Translation:
Yesterday we had a little party at Annika's place. We watched two finnish movies and just talked all night long. I love my friends we always have such a good time. ♥ I also had this fricking scary Pocahontas blanket, that Radcliffe's face is just terrifying. And from now on, as you can see, I'll be writing entries in english too. Hope you enjoy it!