Enpäs oo kirjotellu aikoihin. On ollu kyl kiireitäki, mulla on ollu koeviikko ja kaikkeaaa. Lisäks en oo vaan jaksanu muokata kuvia jne. :D Mutta nyt ois taas uutta postausta ja Hasun synttäreistä, jotka oli 17. päivä!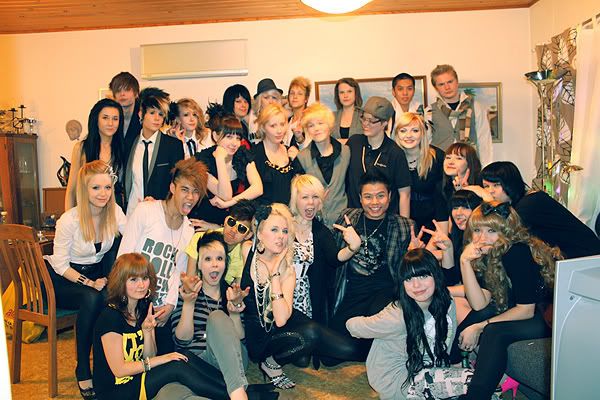 Porukkaa oli ihan sairaasti, en tuntenu varmaan puoliakaan ja sosialisointi jäi joidenki ihmisten osilta vähän heikoksi, kun olin hiukan ottanut viisasten juomia.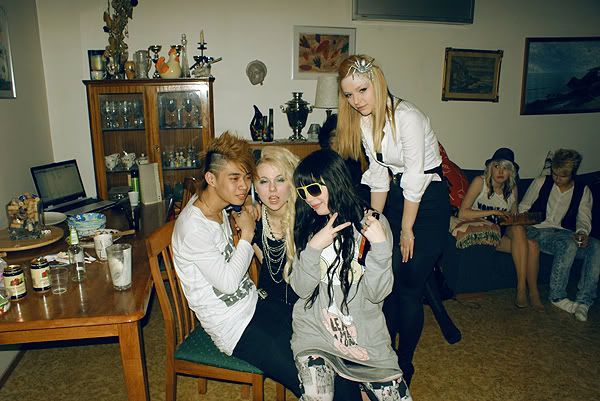 Tässä kuvassa varmaan sisäistyy meidän meininki parhaiten... Kuvasta ei näe, et Maria on just nostamassa mun toista jalkaa kattoon, joten sen takia Viivi joutuu pitämään mua pystyssä. XD
Hasu puhaltamassa kynttilöitä Hillan tekemästä kakusta! Noi kakut oli kyl nannaa.
Minä ja Mei ollaan kaljakavereita... Naisellista, kaljaa ja kakkua. :--D
Haluaisin kuulla mielipiteitä yhdestä asiasta, onko nä mun partymerkinnät ihan kiinnotavia, haluisitteko et kerron lisää millanen meininki oli, vai pitäiskö olla enemmän kuvia yleisesti, vaikka mä en niissä esiintyis? Ku oon miettiny tätä siltä kantilta, että tä on mun blogi ja te lukijat ette varmastikkaan tunne mun kavereita, niin kiinnotaako nähdä sellaisia kuvia missä olisi vain niitä mun kavereita? :D Olisi mielenkiintoista kuulla!
Nyt pitäis keksiä mitä teen vappuna, suunnitelmat vähän kusee ku minnekkään ei pääse. Huomenna on eka tutorkoulutus, ku hain sellaseenki, saa yhden kurssin. Hain kans eilen töitä, toivottavasti pääsen puhelinmyyjäks! Vaikutti houkuttelevammalt ku siivoojana toimiminen.
Translation:
There's some pictures of Hasu's b-day party which was on 17th day. :D As you can see we had much muh fun. This weekend is the finnish traditional partyday Vappu, but I have no idea what to do because we have no place where to go.
I've also searched for a job, I hope I can get a telemarketer job.