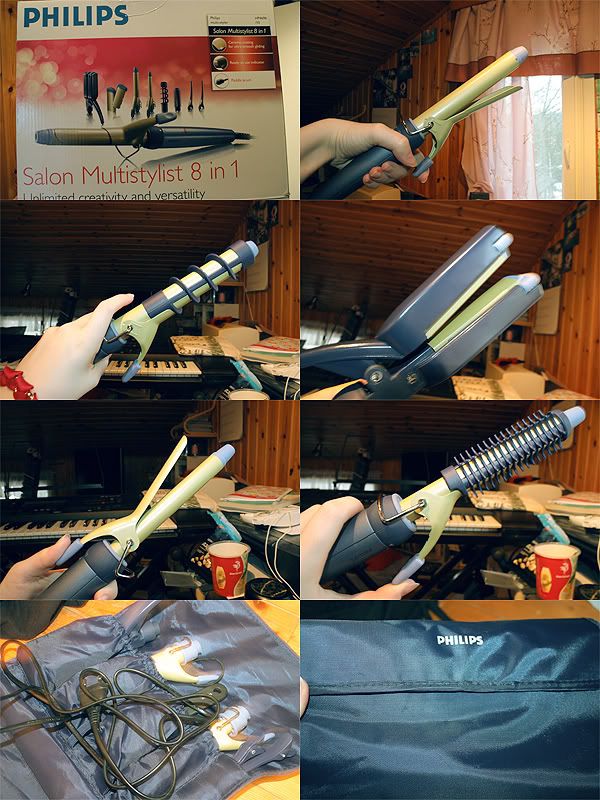 Kävin eilen isän kanssa ruokaostoksilla, ja mukaan tarttui uusi kiharrin. Oli suhteellisen halpa, 37 euroa ja siinä mukana tuli kumminki noin paljo kaikkee lisäsälää. :D Tommone paksu kiharrinjuttu, mihin saa korkkiruuvilisäosan, ohuempi kiharrin mihin saa tolla sen harjaosan, tommonen ihme suoristusraudan näkönen juttu millä voi tehdä laineita ja sit tuli viel harja ja hiusklipsut. En oo viel ehtiny kokeilee kaikkii juttuja, mutta vaikuttaa jo nyt paljon paremmalta verrattuna mun kivikautiseen kihartimeen, jonka äiti osti joskus 90-luvun alussa... Ehkä mä näitten avulla vielä kehityn hiustenlaitossa. >D
Tänään oltiin syömässä pääsiäisateriaa isoäidin luona. Oli kyl tosi herkullista. *>* Ei kyl meinannu jälkiruoka mahtua ja en ees menny kahville ku onnistuin jotenkin nukahtamaan mamman sängylle... Ups.
Huomenna meille tulee kampaaja (isän työkaveri leikkaa aina meijän perheen hiukset). En kyl tee mitää erikoista näille, kunhan lyhennän taas otsatukkaa. On kasvanu taas niin paljo et menee inhottavasti silmiin.
Translation:
I have a new curling iron, it was really cheap and has all kinds of different accessory parts. Also, today we went to eat lunch to my grandmother's place and she makes always such a good food. ♥ Tomorrow our hair dresser will come to our place. All I will do is make my bangs shorter, because these are too long again.