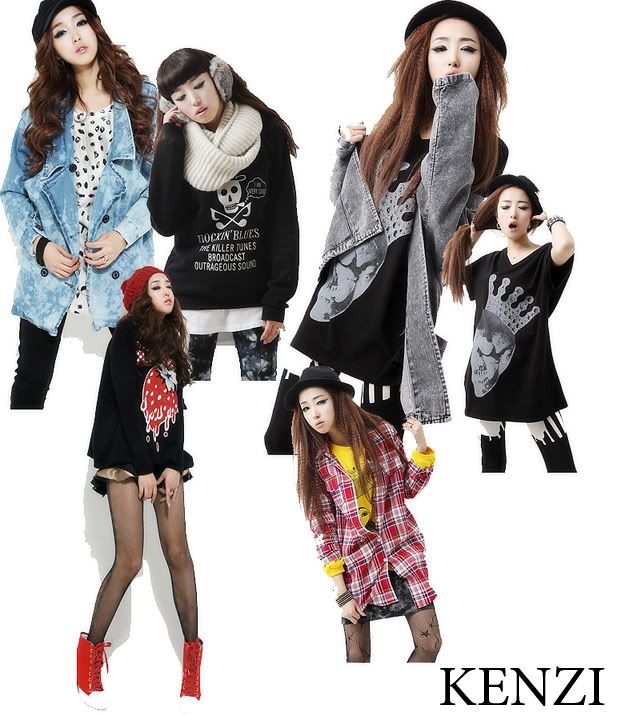 Älkää kattoku muokkauksia ja sommittelua turhan tarkkaan... Heitin noi nopeesti jotenki ja mun photoshoppaustaidot kusee edelleen. Ja kuvan voi klikata isommaksi!
Oli totaalisen fataali idea mulle lähteä selaamaan YesStyleä, löysin nimittäin tälläsen uuden ihanan merkin, jota en oo siis aikasemmin noteerannu. KENZI, nä vaatteet on ihanan rock ja tälläsiä ylicooleja, mut silti jotenki tyttömäisiä ja söpöjä! Hinta onki sit vähä enempi, mitä oon YesStylestä yleensä tottunu tilaamaan. Oon yleensä onnistunu kaivaa YesStylestä parhaat alennukset ja halvimmilla hinnoilla kaikkee söpöä. Mutta näistä vaatteista mulle tulee sellanen olo, et jos olis rahaa maksaisin. Mutta kun sitä rahaa ei ole. Nytkin pitäisi säästää Nintendo DS:n peliin (Pokémon HeartGold tai SoulSilver) ja tämmöset kummittelee.
Muutenki rakastan tota koko stailausta. Noissa oikealla olevissa kuvissa ja kokonaisuuksissa toi malli näyttää musta vaan ihan
täydelliseltä.
Tekis mieli kokeilla krepata omia hiuksia kiitos ton. Mun on kans pakko löytää uus tollanen hattu, Japanista tuli mukana ton mallinen hattu, joka on kyl vähä liian erikoinen et sitä vois käyttää melkeen minkä vaan asukokonaisuuden kanssa, koska se on aika bling bling ja siinä on pusuhuulikuvioo. :--D Oljen värinen ois just cool tai sit iha vaa tollane musta! Lisäks pitkäst aikaa löysin pääkallopaidan joka on oikeesti hieno. Yleensä mulle tulee kaikist pääkalloist liikaa ernut mielee. Mut toi on upee.
Mun on pakko repästä neljäkymppii jostain et saisin edes ton keltasen paidan mikä on tos alaoikeel. Se ei nyt näy oikeen hyvin ku otin ton kuvan, mis on toi koordinaatio ton ruutupaidan kanssa. Mut keltane löllöpaita mis on cool viikisekäs kuningas piirrettynä. Oikeesti DO WANT.
Ja noi farkkutakit on niin ihania... Ne on just tollasia ihanan sävysiä mitä Suomesta sais ettiä kissojen ja koirien kanssa.
Mul menee kyl ihan ristiin trendien kaa nä mieltymykset, talvella ku tämmönen hiuka rockimpi tyyli oli muodikasta jne. olin iha omissa pastelli maailmoissani ja halusin söpöyttä ja kukkia ja tällästä. Ja nyt ku ne on vihdoinki päässy kauppoihin haluun revitellä tällästen vaatteitten kaa.... fuck.
Saa nähdä jos jotenki pystyisin kinuu noit vanhemmilt. ; __ ; En oo pitkää aikaa halunnu mitää näi paljoo.
Translation:
I really shouldn't look up for new clothes from YesStyle when I
really don't have money.
I found this new lovely brand called KENZI and look at those clothes. They're so amazing. But I really don't have money, now I'm saving up so I could buy one of those new Pokémon games (SoulSilver or HeartGold, haven't decided yet). I really need a job or something...
Also, I'm currently addicted to this song.