Hello everyone! (o´ω`o)ノ I still haven't finished the layout of my blog, but I have too many things I want to write about I need to write one post now! There has been so many fun events. This time I'm going to write about Confusion, which was a Swedish convention held in Göteborg 25th-27th October. It was my first non-Finnish con, so I was really excited to attend. 。(⌒∇⌒。)
It was still so early when we arrived that con hadn't even started! So we ended up mostly playing games with my 3DS.....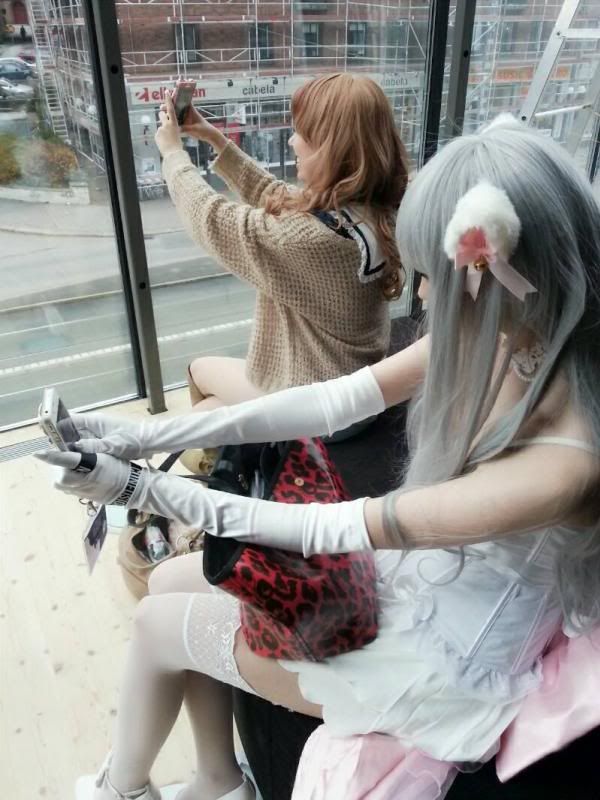 ....and taking selcas. (*/∇\*)When the con finally started, we still had to wait many hours for the opening ceremony. I didn't feel like that con had started before opening ceremony. At Finnish cons the opening ceremony is always really early so I start my cons with that.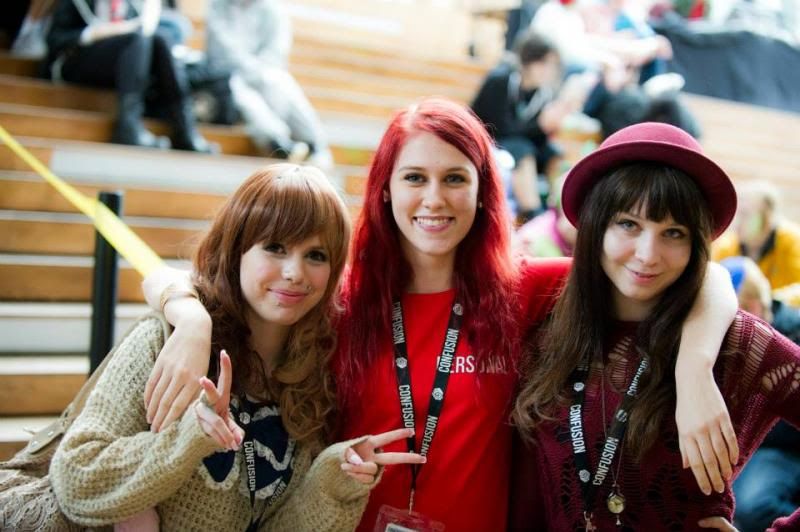 We are Fanny's girls! (#⌒∇⌒#)ゞ
Thought there was not much to do before the opening ceremony, we had great time meeting our Swedes! Almost everyone was kinda busy with their con work, but it was really nice seeing these lovely people again.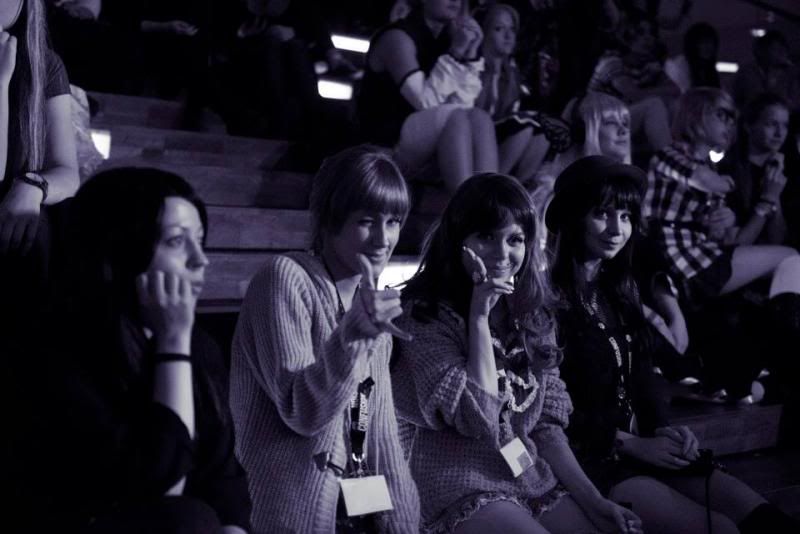 "Soitellaan!" Irde, Milla, me and Janette.
Opening ceremony was really worth waiting for! I saw AKBabes0048 for the first time, and they were super awesome. I became a real fangirl. (つω⊂* ) Thought I can't speak Swedish very well, it was very easy to understand the story of the opening ceremony etc. Next program was Battle of the Cons and we were cheering Desucon of course! Finnish power never dies. I was actually cheering so loudly, that they even gave an award to me too... Then everyone started calling me "Screaming Girl". Waah, why do I have such a loud voice?! (ノ´д`)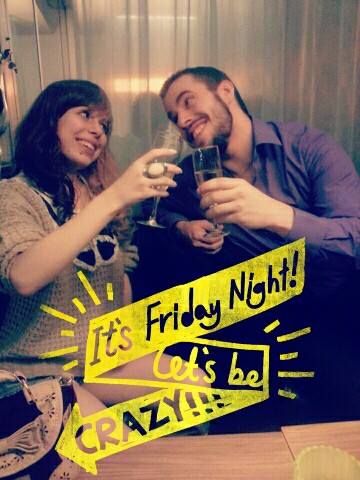 Me, Tomi and champagne. Classy.
When we Finns got to our hotel that night, we thought that it would still be too early for bed. So we ended up having a few drinks at our hotel's bar. I hadn't slept the night before at all, so I think I had been up for over 30 hours or so... So everything seemed really funny. ┌(★o☆)┘ There even was some kind of after-party, but luckily Janette dragged me to sleep so we could be fresh next day!
The next day there was lots and lots of sitting because there were so many programs we wanted to see. There was a dance show of the group Swe-T, which was really awesome! While watching them I really felt my passion for dancing to grow too, and I wish we could perform with Chotto!Chocolate overseas soon. (ノ≧∀≦)ノ Then there was Aki Hata's concert. We were in the first row and downloaded light stick apps to our phones! I felt like a really hardcore fan there. After Aki Hata's concert me and Janette went back to our hotel to change clothes for the night's rave.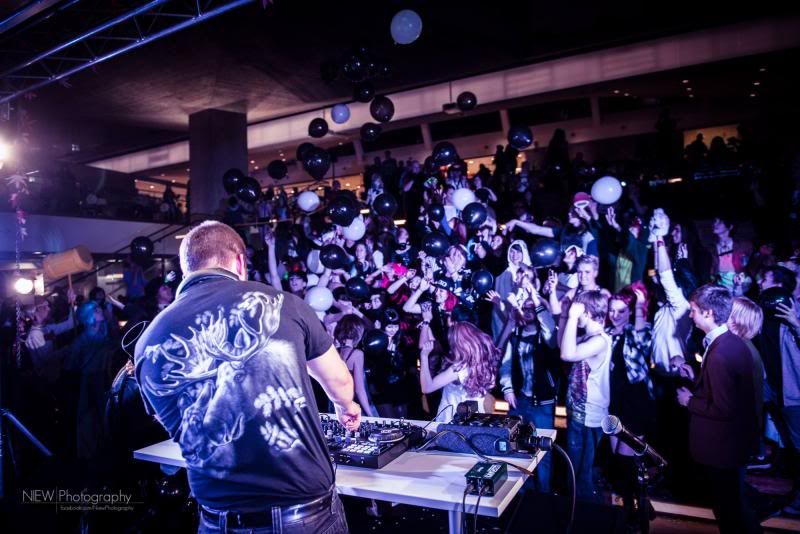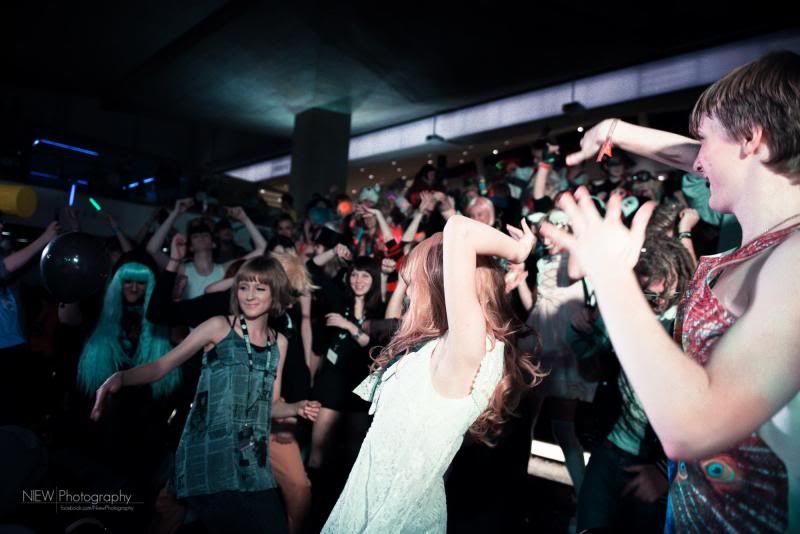 Rave was awesome, thought the dance floor was kinda difficult. Actually it was more like dance stairs. There were great amount of people dancing and it was so frigging hot! I became tired very quickly, but I still stayed listening the great music.
Then Sunday... I was very tired the whole day, so I mostly spent my time at the Green Room playing Mario Kart and Pokemon with everyone. I didn't even go to see the closing ceremony, because I thought it was too sad to Confusion to end. (´;д;`) Even thought I didn't do anything special that Sunday, I got to spend so much time with those lovely Swedes. ❤ You guys have to come to Finland soon!
I bought two things while this trip! We don't have Victoria's Secret in Finland, so I was really excited to go to their shop at the airport. This cute red striped bag was only ~20e, so I thought "what the hell!" and bought it. Innocent World's skirt I found from Confusion. It was kinda expensive, but I fell in love with it so badly! And lolita brands are always expensive. The print is so cute, there's little deer, mouses and rabbits. (◍•ᴗ•◍)❤
In conclusion I think Confusion was a little better than average con when I only think of the programs, management and so on. But because of the people it was so so so so great! The best Swedish con I have ever went to lol.