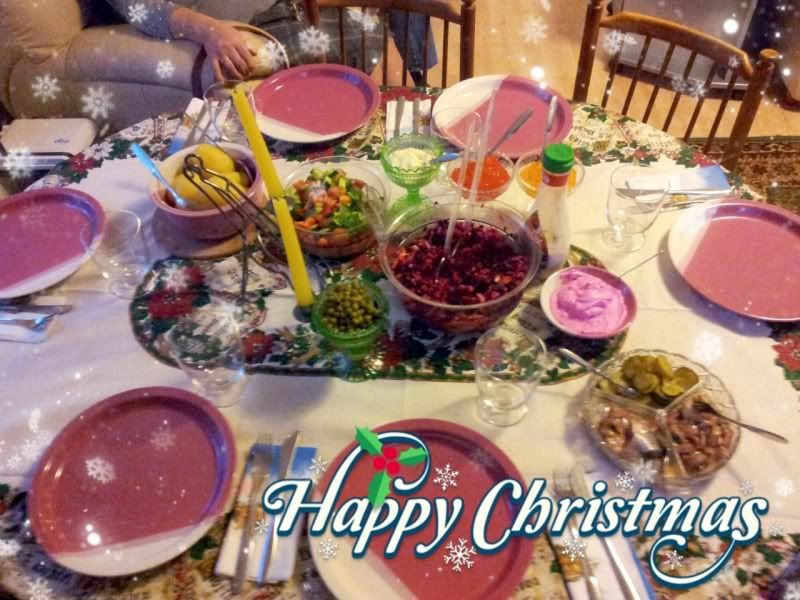 It's finally here, Christmas!! ☆ミ(o*・ω・)ノ In Finland we celebrate it 24th day, so I have already eaten too much and opened my presents. But in my family the celebrating doesn't end there! 25th day we always go to visit my mother's relatives to countryside and 26th we're going to my grandmother's house to eat some more. I'm not too excited about that because I'd like to take it easy too, but hey, at least I'll be eating delicious Christmas foods for two more days haha.
Usually my father gets us a Christmas tree from our yard but this year he didn't find a good one or something. Too bad, but that didn't bring my holiday spirit down. It was kinda funny to put the presents under our tv. ( ´∀`)I didn't get too many presents this year but hey, I'm an adult already so I didn't expect much. And my parents helped me to pay for a new computer, so I'm super grateful for that. I was actually more excited about my family to open presents I gave them. They really seemed to like them!
I'm actually going to make a video about my presents this week, so stay tuned for that! I have done a video almost every year while having this blog haha. But now that I'm writing in english I feel like I should speak english in the video too... Let's hope I can do it!
And here's Chotto!Chocolate's Christmas video, have you seen it already? (ノ ̄ω ̄)ノ♪♬ This dance was so much fun, I hope you like it!