Hello everyone! ┻┳|・ω・)ノ There haven't been much going on lately, I visited Turku last weekend and I've just been watching anime without make up in my home clothes. Thought in Turku we went to see a game music concert with my family and it was a amazing! It was really cool to hear music from games like Super Mario Bros., The Legend of Zelda, Assassin's Creed IV etc. played by a real orchestra. But now I'm back to Espoo and yesterday I even dolled up a bit. (▰˘◡˘▰)
Beanie ★ H&M
Scarf ★ Accessorize
Jacket ★ Second Hand
Shirt ★ YesStyle
Cardigan ★ Seppälä
Skirt ★ Liz Lisa
Shoes ★ eBay
Bag ★ Liz Lisa
It's finally getting warmer here in Finland, and I can use all my pretty spring/autumn jackets. ヽ(;▽;)ノThis jacket I bought from Eve, because the sleeves were too short for her. It has a cute sailor collar, too bad you can't see it from this picture. I'm so into sailor collars right now.
So yesterday I went to eat to restaurant called Emo and see movie called Her. It was such a fancy night. (◍•ᴗ•◍)❤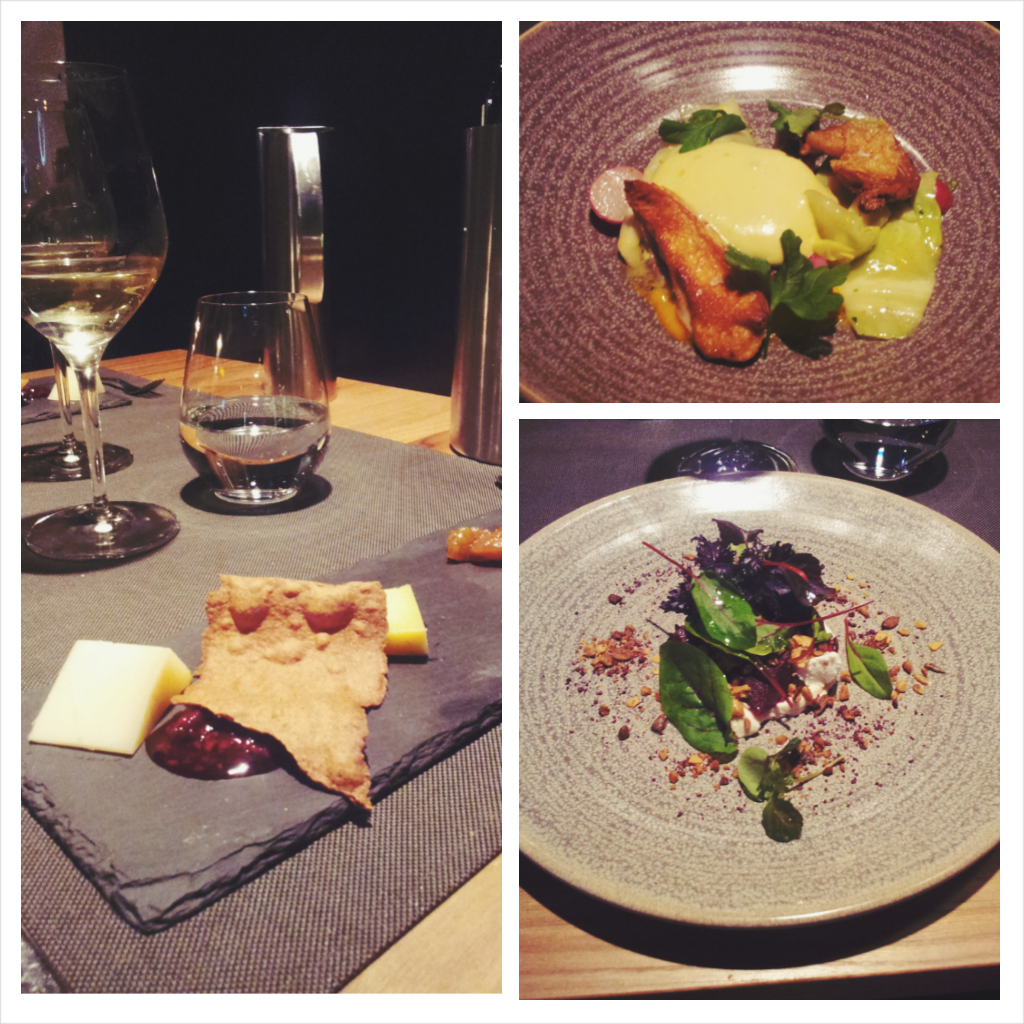 Food at Emo was absolutely delicious. I ate all kinds of cheeses and some chicken. But it was so fancy, I'm not used to restaurants this high class! |・ω・`) Waitresses were also really nice and told information about every food that was served. If I was rich I'd love to eat this way everyday. Maybe someday...
Then there was the movie! I still don't know if the movie was touching or just really confusing or both, but it really made me think and I think that is an important thing. If a movie (or almost any work of art) doesn't make you feel or think anything, it's not impressing enough.
So in a nutshell Her is about a man who falls in love with a talking operating system which has artificial intelligence. I think this movie took a fresh look at a problem what many movies, tv-series' and comics have already been about. There are many stories of people falling love with robots with artificial intelligence but what happens if there's nothing physical? I still haven't sorted all my thoughts about this and I think I'm never able to, because there's huge amount of things to wonder about this kind of situation.
The futuristic world in this movie was really cool. I loved all gadgets and how their computers worked etc. In some way it was really realistic view how world could be running in a few centuries, or even decades. Also the movie's visuals were really pretty and I loved how everything looked. I think I have to see this again when it comes out as Blu-ray.
I think that's it. I thought about writing long text about this but at the moment I can't come up with anything else. Maybe after I've seen it again...? But to the other things! I'm so sad that Kill la Kill AND Golden Time are coming to an end tomorrow. 。:゜(;´∩`;)゜:。 It feels like they've been my highlights of the week forever now! But I think I'm going to write something about those animes after tomorrow. I have TONS OF THINGS I want to say about Kill la Kill.
So stay tuned. ☆~(ゝ。∂)